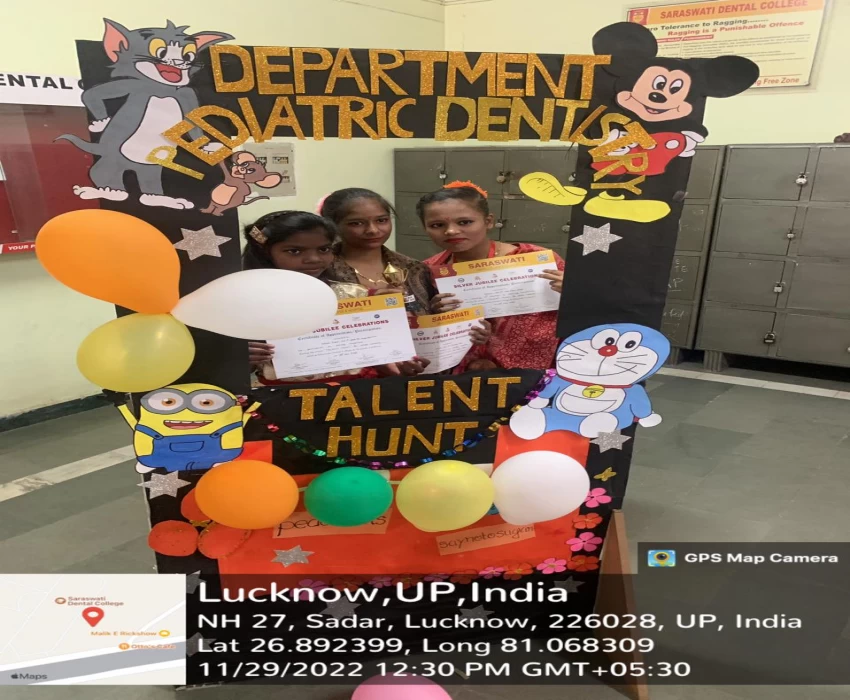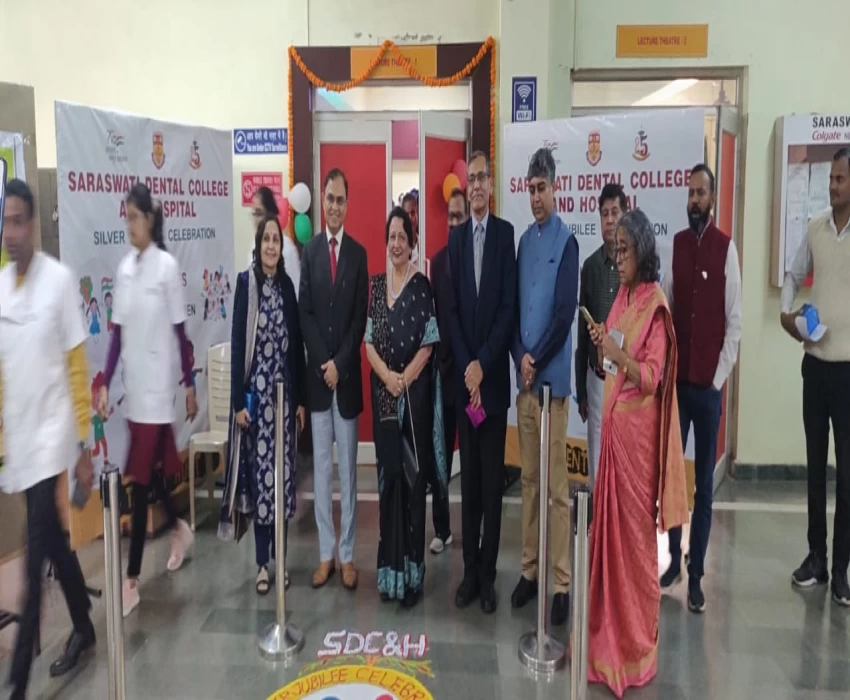 On the occasion of Silver Jubilee year of Saraswati Dental College and Hospital, a "Talent Hunt"
was organized by the institution on 29 th November 2022 in Lecture Hall 1.
The programme was graced by the Chief Guest-Mrs. Madhu Mathur; Chairperson, SDC&H, Dr.
K.N. Dubey- Principal, SDC&H, , Lt.col.Ms.Sandhya- Principal,BSMSON, Dr.Arvind Tripathi, Dean
PG studies, Dr. Pradyumna Misra-Vice Principal,SDC&H, Dr.Neerja Singh-Professor,BBDCODS
and Dr.Subash Singh-Reader,BBDCODS.
Dr. Saumya Navit-Professor and Head,Dr. Suleman Abbas Khan-Professor, Dr. Seema Jabeen-
Asst. Professor, Dr. Meenakshi Upadhyay- Reader and Dr. Shaifali Agarwal- Senior Lecturer
graced the occasion with their dynamic organizing talent.
The principal, school teachers and students of Samar City Junior High school and Shri
Nageshwar Prasad Dwivedi Public school made this programme very lively.
The zealous "Talent Hunt'' then ushered in with singing and dancing competition. The judges
for the ''Talent Hunt" were Lt. Col. Ms. Sandhya, Dr. Ragni Tandon, Dr. Neerja Singh and Dr.
Subhash Singh. The children were rewarded with trophies, medals and certificates by Chief
Guest,Mrs. Madhu Mathur and Principal,Dr.K.N.Dubey.
To motivate the youngsters about dental health, the Interns performed a small play focusing
importance on good oral hygiene and health awareness.
The event came to an end with the motivating yet warm words by Mrs. Madhu Mathur and Dr.
K.N. Dubey followed by vote of thanks by Dr. Seema Jabeen and National Anthem.
The department of pediatric dentistry also provided for free oral heath check-up followed by
refreshment for all the school children.
The electrifying enthusiasm showcased by everybody today very well highlights the ambition
and goal of Saraswati Dental College & Hospital of giving back to the society continually for the
past 25 years. "It's only the body that grows old, the hair that turns grey, but the ambition
and aspirations of Saraswati Dental College shall live on for posterity".